When it comes to virtualization solutions, Proxmox and VMware ESXi are two of the most popular choices in the market. Both platforms offer unique features and advantages, but which one is the right fit for your needs? In this article, we'll dive deep into the world of Proxmox vs VMware ESXi, comparing their features, performance, and ease of use. Let's begin!
Overview of Proxmox vs VMware ESXi
Proxmox is an open-source virtualization platform that combines KVM hypervisor and LXC containers, providing a powerful and flexible solution for managing virtual machines (VMs). Proxmox comes with a user-friendly web interface, making it easy to manage VMs, containers, storage, and networking. To learn more about Proxmox virtualization, check out our article on KVM vs Proxmox VE Virtualization.
ESXi is a type 1 hypervisor developed by VMware, one of the most established names in virtualization. ESXi is part of VMware's vSphere product suite and offers a highly efficient and reliable solution for managing VMs. ESXi is a commercial product, which means you'll need to purchase a license for its full range of features.
Proxmox vs VMware ESXi Comparison
1. Open-source vs Proprietary
Proxmox: Being an open-source platform, Proxmox offers a cost-effective solution, with no upfront licensing fees. The active community behind Proxmox means you can expect frequent updates, bug fixes, and new features.
ESXi: As a proprietary solution, ESXi requires purchasing a license, which can be expensive, especially for small businesses or individuals. However, VMware offers a free version of ESXi with limited features.
2. User Interface
Proxmox features a web-based user interface that is intuitive and easy to use. Users can manage VMs, containers, storage, and networking, all from a single console.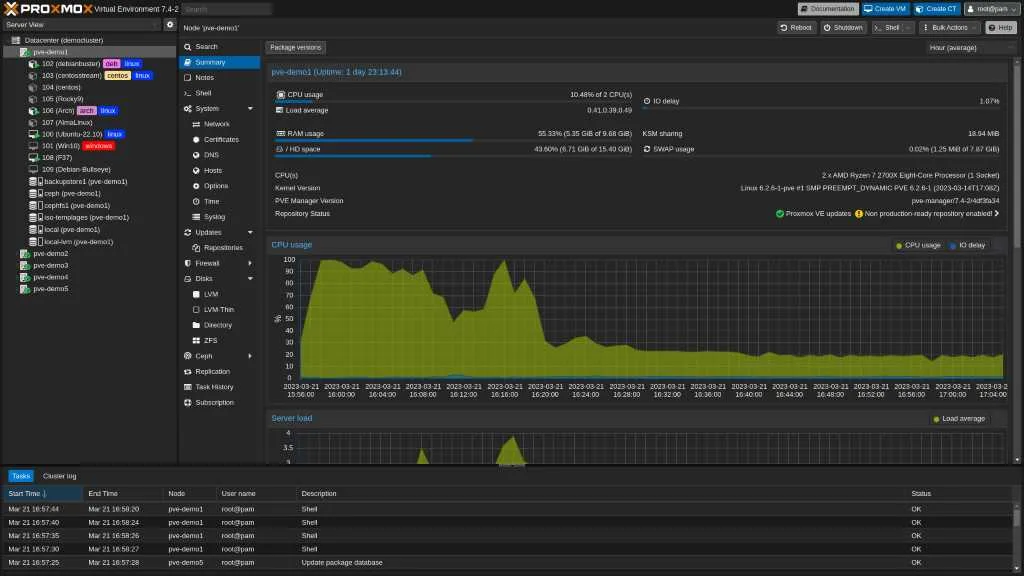 VMware–ESXi also comes with a web-based interface, vSphere Client, which is user-friendly and feature-rich. However, to access some advanced features, you might need to use the VMware vCenter Server, which requires an additional license.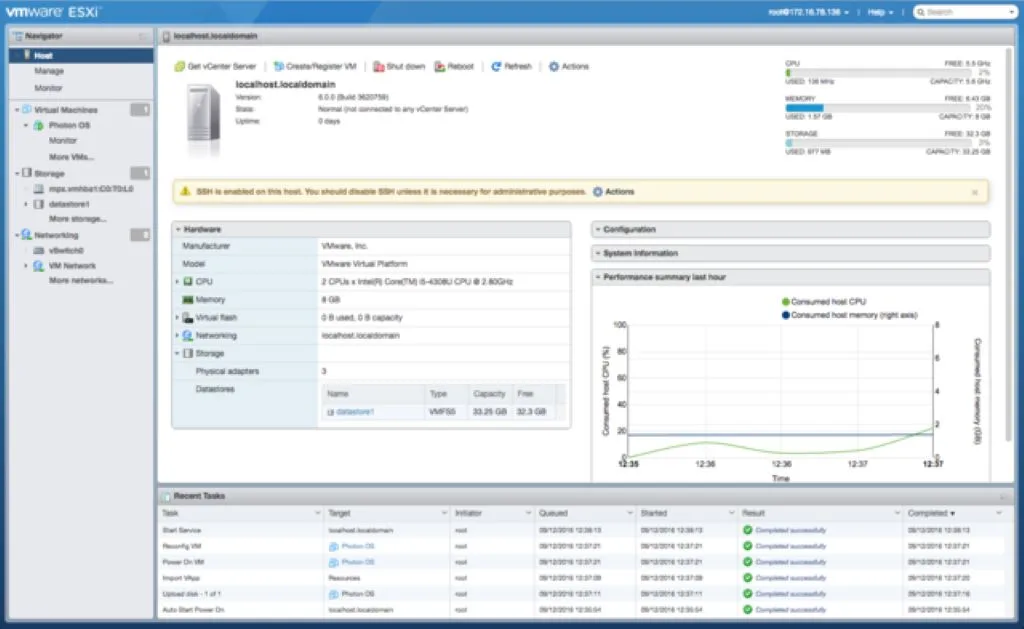 3. Storage Management
Proxmox supports a variety of storage types, including local storage, network-attached storage (NAS), and distributed storage. It also offers advanced features like storage replication and snapshots.
ESXi supports a wide range of storage options, including local, NAS, and SAN storage. VMware's advanced storage features, like vSAN and VMFS, are available in the paid version.
4. High Availability and Clustering
Proxmox includes built-in support for high availability (HA) and clustering, allowing you to create a fault-tolerant infrastructure with minimal effort.
ESXi also offers HA and clustering features, but these are only available in the paid version.
5. Backup and Disaster Recovery
Proxmox has a built-in backup feature that supports full, incremental, and differential backups. You can also use the snapshot functionality to create point-in-time copies of your VMs.
vSphere provides backup and snapshot features, but advanced disaster recovery capabilities like Site Recovery Manager (SRM) are only available in the paid version.
Performance
When it comes to performance, both Proxmox and VMware ESXi deliver excellent results. However, there are some differences to consider:
Proxmox leverages the KVM hypervisor, which is known for its high performance and low overhead. The open-source nature of Proxmox allows for more customization and optimization, which can lead to even better performance in specific scenarios.
vSphere is built on a highly optimized hypervisor, designed to deliver top-notch performance, especially when used with VMware's ecosystem of products. VMware's proprietary technology and the company's focus on performance optimization make ESXi a strong contender in terms of performance.
It's worth noting that the actual performance of both platforms can be affected by factors like hardware, configuration, and workload. As such, it's essential to test both solutions in your specific environment to determine which one performs better for your needs.
Community and Support
Proxmox
Proxmox has an active community that provides support through forums and mailing lists. Additionally, Proxmox offers commercial support options, which include access to professional support, updates, and security patches.
VMware
VMware has a vast community of users, and you can find support through various channels, including forums, knowledge base articles, and blogs. VMware also offers professional support services, but these come at an additional cost.
Pricing
Proxmox: Proxmox is free to use and can be downloaded from its website. However, if you need professional support and regular updates, you can opt for a subscription plan starting at €74.90 per year for one CPU socket.
VMware offers complete range of features and support, you'll need to purchase a license. Pricing for VMware vSphere starts at $995 per CPU socket, excluding support and subscription costs.
Conclusion
In summary, both Proxmox and ESXi are powerful virtualization solutions with their own unique advantages. Proxmox is an excellent choice for those who prefer an open-source solution and need a cost-effective platform with the flexibility and customization options. On the other hand, ESXi is a popular choice for businesses that require a reliable, high-performance solution and are willing to invest in a proprietary platform.
Ultimately, the choice between VMware-ESXi and Proxmox will depend on your specific requirements, budget, and preferences. We recommend testing both platforms in your environment and evaluating their performance, features, and ease of use to make an informed decision.
For more information on related topics, explore the following articles: